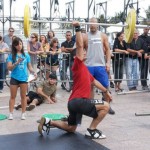 I finally figured out what I like so much about competing in CrossFit competitions. Being on stage. There's something special about doing a physical challenge (I think of CrossFit events more as physical challenges and not just workouts) with a bunch of killer athletes, many of whom are your friends, and also having a bunch of your friends screaming in your face as you grind it out, sometimes from just a few feet away. That's a huge rush and the energy of the group setting is…hard to describe. But it's awesome and primal. In all of the other sports I've played, including some adrenaline sports, there's nothing else that compares. Even in rowing, where the physical output is huge and the pain/rush is sharper, the emotional and spiritual rush of CrossFit is greater. Part of it is the crowd's in your face whereas in rowing the crowd is on a distant shore. But my theory is that we're hardwired to be on stage and perform, it's part of our nature, and Crossfit is the ultimate type of sporting performance. It's essentially a simulation of a life or death fight without the big drawback of actually, you know, dying.
It's also fascinating to watch your friends work through these challenges during a WOD. It gives insight into their character and witnessing those revelations are enthralling. I like cheering on my pals almost as much as I like competing. It's a profound thing to perform and be judged for our efforts.
So, of the eight CrossFit competitions I've done in the past year, Wodapalooza 2011 was the apotheosis experience. Guido Trinidad and the fine folks of Peak360 did an exemplary job.
Enough with the philosophizing. Here's my review.
The Pro's
There are too many good things to list so I'll hit the highlights. The setting at Bayfront Park in downtown Miami was terrific. It's a cool locale, right on the water, with plenty of places to hang out in the grass and chill. The event took place on Friday and Saturday with 7 or 8 WODs depending on what category you were in. This was a good choice because it meant a) people could party on Saturday night and b) drive home on Sunday in time for the Super Bowl.
Also, it's awesome to WOD outside and not be stuck in a gym!!
I thought the programming was near brilliant. It was creative and extremely challenging, even in the RX category. I had to break through some barriers just to finish and that's what it's all about. The 1RM Turkish get-up? Awesome! Fun! The chipper? Gnarly, incredibly painful, fun. Even the burpee broad jump / burpee wall climb couplet with L-sit buy-in was a blast (and hard). There was a lot of thought put into how the programming meshed together and also how to coordinate it all with three different stages and incorporate the environment. Kudos here, I give it a 8 out of 10. I had one problem with the programming and I'll get into that below.
Another huge plus was the DJ, who spun awesome tunes from morning til night. The genre was mostly EDM (electronic dance music) with sprinklings of rap and pop and even a Pearl Jam track. In my humble opinion, EDM artists like Calvin Harris and Steve Aoki make excellent choices for a CrossFit soundtrack. More than once I found myself watching an event and shaking my booty. I even saw some nice septuagenarian ladies tapping their feet unwittingly as they surveilled the weirdness that is a CrossFit throwdown. If the grandmas are dancing, you know the DJ is doing a good job.
The Con's
The event started a bit late on both days, which is a minor glitch, since I considered myself to be on Miami time anyway. They caught up almost immediately and actually finished early on both days. Guido and crew did a fantastic job juggling the millions of moving parts and getting things done.
My only real gripe, which is sort of a broader competitive question, is this: are the standards getting too over-the-top for local and regional competitions? Evidence A were the standards for RTG women, which included 275# deadlift, 175# clean, and 135# snatch. How many chicks in the state of Florida have that?? The answer is not many, as only two women registered in the RTG division. Both of those women had to compete in the RTG men's heats. Even the RX women's division seemed under represented, with only 11 participants (compared to 37 RX men).
So either gyms are doing a poor job of marketing to and developing competitive women, or the standards are getting so extraordinary that it's cutting out athletes, or a combination of the two. On the flipside, you can argue that Wodapalooza is a "premier" event and thus it must maintain extraordinary standards. I mean, people are showing up to see athletes move big weight, right? Whatever is going on, the workouts were tough and the athlete pool was skewed.
One piece of programming I didn't like were the weighted 53# pistols in the RTG category. Yes, I didn't compete in RTG so I didn't have the pleasure of experiencing this particular piece of gnarliness, but it seems like a high risk exercise just asking for a knee blowout. Why not just regular pistols?
My Experience
RX Men did seven WODs total, with three on Friday and four on Saturday. They were all unique and tested something different.
The easiest WOD was the first one, which involved a shuttle run and lateral jumps over a hurdle. It was a major quad burner and fun. I did pretty decent on this one.
The most painful WOD was the chipper. That thing ended with a 1000M run and a 100M bear crawl. Nasty. My CNS was so overloaded after doing thrusters I had to walk about 80 meters before I could break into a miserable jog. I did the bear crawls unbroken and that was a highlight moment as I passed two people.
The hardest WOD for me was the rope climb / deadlift 245# / row 25 cal event. My deadlift max is 315# so 245 is pretty damn heavy. In fact, I've only ever done 4-5 reps at 245# in a workout, so doing 30 reps almost killed me. I wore a weight belt to preserve a modicum of form, something I've only done once before in CrossFit. I was super stressed about this event because I was worried I wouldn't be able to finish the deadlifts. I was proud that I did and it ended up being a highlight.
Just to give you idea of how mental this WOD was, I seriously thought about quitting after the first round. I had no idea how I was getting through the last 20 reps of deads. The answer was one at a time.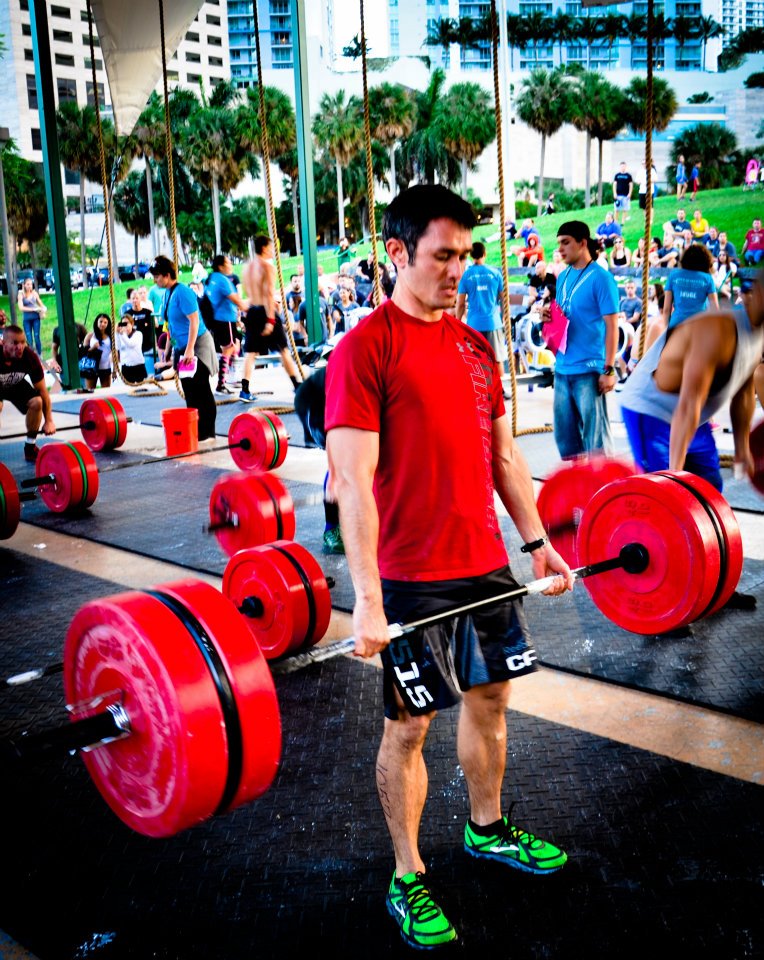 The funnest WOD was "Lift Big," which involved 3 x 1′ of lifting at 185#. The lifts were clean, front squat, and jerk, with 60″ of rest in between. My clean and jerk max is 185#, so I set a nice 3RM on clean and 2RM on jerk. My score wasn't competitive, but I broke through a barrier and I was damned happy about it.
"Lift Big" was amazing because it was at night, under lights, on stage, with people screaming. The music was loud. It was an badass experience.
Bottom Line
Doing 7-8 WODs over two days was an awesome challenge. Everyone was wrecked by Saturday night. There's a big mental component to a multi-day event and it takes a fair amount of strategy. That was one of my favorite aspects of Wodapalooza and why I think it's a must-attend for anyone in the region. If you really love to compete, and want to compete at a high level, consider adding this one to your calendar. Plus, it's in Miami and you can't go wrong with making a weekend in one of the coolest cities in the world. The experience was fun and super intense.
I want to recognize Peak360 again and the army of volunteers they brought to run the event. Everyone was extremely pleasant and the whole affair had a community vibe to it. Big props.
The bottom line: Wodapalooza is my favorite CrossFit competition of the eight I've done and one of my all-time favorite sporting experiences. I will definitely sign up again. I even rank it ahead of Summer Crush, which was similar and totally awesome in it's own right.
Lastly, I want to recommend LeBouchon du Grove, a great French bistro in Coconut Grove. We ate there both nights and can't stop raving about it. Chef Christian has the best mustache in Miami.
#tweety #rehab #evolution #bear #bakeman #wyoming