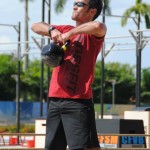 When I think of my top 5 all-time athletic experiences, it goes something like this in no particular order:
Winning a bronze medal at the '98 Dad Vails in the lightweight 8+. I sat two-seat. I remember it like it was yesterday.
Doing a sprint adventure race (trail run, mountain bike, canoe, obstacles) in Deerfield Beach. This was ridiculously fun because I was racing all-out with two of my buddies and it was like 100 degrees out. Extreme conditions make a race that much more epic.
Tough Mudder SoCal. Similar to #2 above, the physical demand was high and it was a blast to race with two good friends. We were wrecked afterwards. The terrain was picturesque and brutal at the same time.
GoRuck St. Augustine. I had to think long and hard whether GoRuck was a top 5 event because, while it was happening, I basically hated it and wanted to die a fiery death. The memory has since matured mutated towards unadulterated fondness. I think this is because GoRuck was the most epic athletic endeavor I've done to date, and I did it with a bunch of dear friends. It also completely changed my attitude about competition and mental toughness. Anyway, I'm slotting this badboy into the top 5 until further notice.
Summer Crush Games makes the top 5 because it had the right combination of exXxtreme conditions, high physical demand, shared experience with pals, unique setting, and overall epicness. That's what I look for in a great athletic experience. Here's how it went down.
 Setting
The place was the Magic City Casino, aka the Flagler Dogtrack. This was an excellent choice to host a large CrossFit competition because there was plenty of room for athletes to hang out under the grandstands and spectators to sit and chill under a huge overhang. I can't over-emphasize how important this one amenity was after having attended Swamp Monster 2.0, which had absolutely no space or shade. The organizers also had access to the PA system for play-by-play and a DJ blasted party music all day (and night).
Having the competition in a stadium made it feel more like a legit sporting event and not a fringe throwdown at a gym. It might not have been the Home Depot Center, but the visceral experience was outstanding and I imagine similar to what the Games competitors feel. More CrossFit events should consider big timing it and upgrading to similar facilities. In Orlando, I'd love to see a box rent the Citrus Bowl or Brighthouse Stadium for a massive competition. That would be awesome. Overall, it was a rush of an experience and the setting was a big part of that.
There were a lot of cool amenities, such as a fleet of paleo-friendly food trucks, a ton of gear vendors, and two bars for obligatory after-competition Patron shots.
The one drawback was a lack of bathrooms…there weren't enough. I assume next year there will be a bank of port-a-lets in the parking lot or something. A bunch of nervous athletes + a shitload of coconut water = long lines at the bathroom.
One detail that put it over the top was Travis Bagent, the CrossFit Games announcer, doing the play-by-play. Awesome. I distinctly remember a "Ben O'Grady is in the lead!!" during the chipper and that was a huge rush. Bagent has a great voice and a fun, testosterone-y style.
Temps were around 97 degrees with a heat index of 105. That kind of heat leeches your strength and punks even the best athletes. There is nothing good or holy about doing thrusters when it's 105 out.
Also, check this out: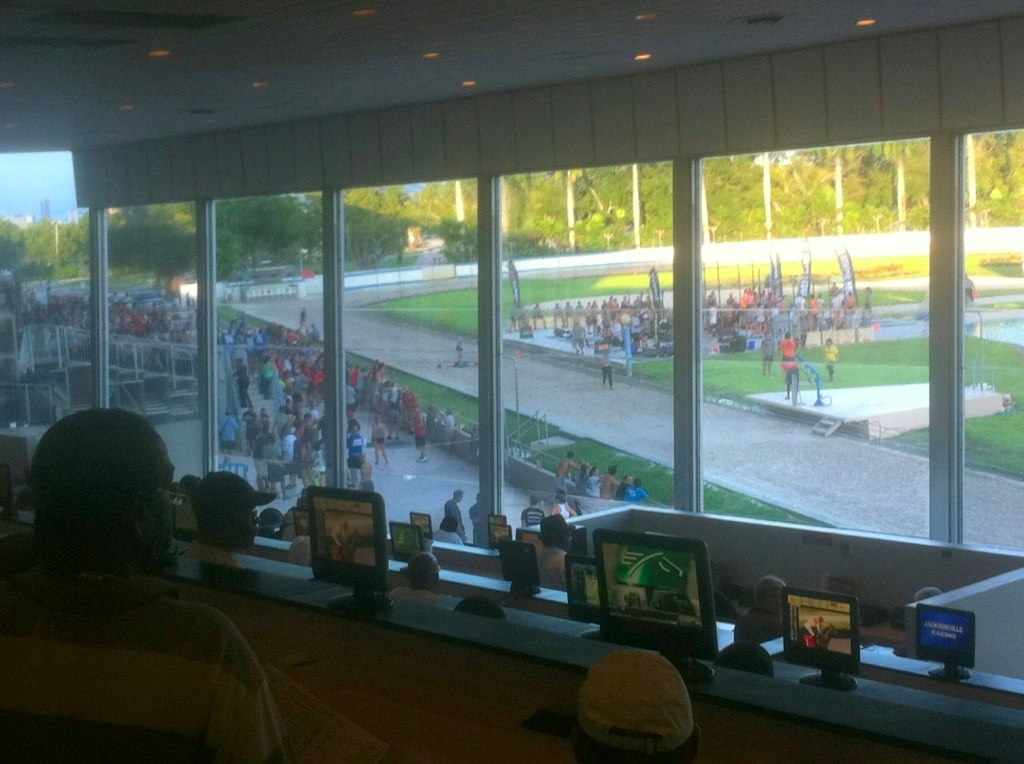 "Why are so many people walking around with knee high socks?" "How come everyone has amazing abs?" These people probably thought we were freaks.
Competition
I did the men's scaled division, which had three WODs and 29 dudes competing. I finished 6th overall, with I believe placings of 9th, 8th, and 4th in the individual WODs. You can see all the WODs on the Summer Crush Games site.
WOD #1 aka "Greyhound" was the most difficult in my opinion, because it was the most aerobically demanding. On paper you would think this WOD was a breeze because all the weights were light. Wrong. This was a nasty WOD. It started with a 400m sprint on the dirt track, then alternated between a movement (sandbag squats, dumbpress press, KB SDLHP, burpees) and 25M of walking lunges with overhead weight. The sprint at the beginning jacked your heartrate and it never came down…you were gassed pretty much on the first movement. The lunges f'ing sucked…my knees sank lower than normal in the dirt and my hamstrings and ass was on FIRE. I saw even the big dog athletes throwing plates into the dirt and doubling over. It spared no one.
I read some bashing online about the lightness and simplicity of the WODs. I can tell you, the WODs were tough as shit and well programmed. The heat combined with high speeds equalled severe painbox conditions. Unbelieveably, I was more wrecked the next day after Summer Crush than I was from Swamp Monster, and the heaviest weight I lifted was 125#!
WOD #2 aka "Flagler" was a badass little chipper that took me a little over 10′ to complete. The 40 box jumps and 30 thrusters smoked me and I had to rest twice during the 20 hand release pushups…I can normally rip through 20 pu's without breaking a sweat. I made a shitty tactical error during the WOD. For some reason I took my sunglasses off right after the pu's and when I went to the bar for T2B, the sun was blasting me right in the eyes. I put my shades back on then ripped off the 10 reps T2B, but I had wasted probably 10-15 seconds and that cost me one placing higher in the event. Those seconds make a difference when you're competing. Lesson learned.
Goodbye Irene
Okay, so here we go. The last WOD was "Goodbye Irene," named after the hurricane that pummeled the east coast over the weekend. This was the WOD that put the entire competition over the top for me…the first two events were awesome and memorable in their own right, but I will go to my grave with the memory of Goodbye Irene seared into my brain. It was a real highlight.
Because of various delays in the competition, the final WOD didn't take place until 8pm. This meant we were treated to a beautiful sunset, with the easterly breeze kneading the tall palm trees of the stadium, a gorgeous deep blue sky, and the occasional jet thundering overhead. It was pure Miami.
And then the lights came on. We filed from the bowels of the stadium to the edge of the competition floor and watched heat 1 blast through the WOD. 3 rounds of 10 deadlifts, 7 front squats, and 4 overheads. You could feel the energy and the struggle as those guys hammered on it. My friend Jack had an awesome performance and won the event with a blistering 1:58 time. It was inspiring to watch and nerve wracking at the same time.
By this time I had spent the last half hour psyching myself up because I knew it would be fast and painful. I would need to go deep into the hurt locker to post a respectable time and hang onto my top 10 finish. Lifting heavy weights fast is not my forte, so I was nervous, probably the most nervous I've been in competition in a decade. Basically, I knew the WOD was a game of pain management and execution and I'd have to sack up to make it happen.
I hit redline right in the middle of round 2 and hung on for dear life for the remainder. I had to close my eyes during the last 10 deadlifts because my neural net was overloaded. Let me tell you, you haven't lived until you've lifted weights so fast you get delirious.
The cool thing about this WOD was that it took a high degree of technical skill to execute properly and maximize your time. After the 10th deadlift, you needed to do a hang clean to get the bar racked for the front squat, and then your hands had to be in the right position to immediately thruster the last front squat into the first overhead. In theory, you could do the entire WOD without the bar leaving your hands. Remembering to do all that took serious concentration. The design of the event was elegant.
Doing all of that under the lights with the crowd cheering was a special experience. It was one of the best rushes I've ever experienced in the various sports I've done. I felt like a warrior emerging from battle.
Bottom Line
The bottom line is Summer Crush is a must on the summer competition circuit. It had some problems: few bathrooms, it ran over by two hours, took place on a Sunday, but for a competition purist, you can't beat this thing. I'll pencil it in for next year without hesitation and recommend to all my CrossFit friends. If you like to compete and don't make Regionals, this is a great end-of-the-summer event to peak for. Also, competing under those lights. There's nothing else like it. An athlete might go their entire life without experiencing that rush.
Big props to Mike Osuna and all of the Miami area gyms that made this thing happen.
I also want to give a shout-out to Team Firebase, it's a thrill to go into battle with you guys: Jack, Sean, Ted, Ellie, Marisol, Nate, Jesse, Jason. As iron sharpens iron, one person sharpens another.