I was recently involved with a web site project as a freelancer for CNP in Winter Haven, Florida. My services included creating a web strategy for Heacock Classic Insurance, SEO of the re-designed web site, and an SEO analysis and opportunities report delivered to the client. This was my first project for CNP and it went smoothly from start to finish. See here for the re-designed Heacock Classic site, which launched barely two weeks ago.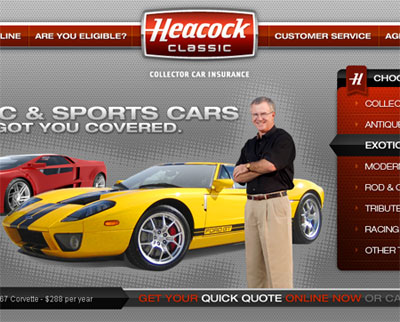 Heacock Classic sells insurance for classic, collector, antique and other fun type cars. At one point, Heacock was in the top 5 in Google's organic rankings but had fallen off pretty badly to the tune of not being in top 3-4 pages by the start of the project. There are only a few major players ranking in the online classic car insurance niche, so I figured it wouldn't be too difficult to get Heacock competing again. Heacock derives much of their business from online searches and they've been spending a good chunk of their marketing budget on Adwords.
My analysis was the classic car insurance niche was a bit immature and ripe for a player with some decent SEO and content to move quickly up the rankings. The main key phrase that everyone was searching was "classic car insurance," to the tune of 49,500 searches per month in the USA. In addition, that same term was getting 56-70 clicks per day on Adwords. When I began the project, the other top online companies were Hagerty.com, Grundy.com, and JCTaylor.com, all in the top 5 on Google.
CNP had already build out the site on WordPress. I went in and loaded a handful of plugins, including All-In-One-SEO and WP SEO Master. I did all the basic site SEO: filling out meta descriptions, revising text, filling in page titles with the important key phrases, adding title attributes to links, adding alts to images, etc. Since the site was already designed and built out, there wasn't much opportunity to add additional content and really spread the keywords around. I did submit it to a handful of directories for the backlinks. My report included a large list of 3rd party sites related to the classic niche that might be interested in link exchanges or adding sponsorship badges.
Post-launch, even the basic SEO had an strong effect. The site moved quickly up the rankings, going from the #17 position to #6 within a week, displacing jctaylor.com out of the top 5. The client was pretty pleased and I've been tracking an increase in traffic since the site launch, which means more leads (and sales) for them. Our goal is to get them ranked at the #1 spot in a year.