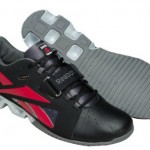 I picked up the Reebok Oly Lifters about three weeks ago and have been using them on a daily basis since purchase. I've probably clocked 20 workouts in the them, including several of the CrossFit Open WOD's. These things kick ass. Here's my review.
Essentials
The Oly Lifters weigh 13.4 ounces per shoe, which is less than the hiking shoes I own. Yes, they are heavier than a typical pair of Inov-8's, but they weigh less than every weightlifting shoe on the market. Heel-to-toe drop is a solid 3/4 of an inch. The heel is constructed of TPU (Thermoplastic Polyurethane) that feels solid as a rock and completely stable. The shoe from mid-foot through the toebox is flexible and light, which gives you a lot of flexibility for most movements during a WOD. I can comfortably do things like box jumps at any height and drop down from a bar without any problem. No, I wouldn't run a mile in them, but I can dash from one station to the next without any problems. Rope climbing also works great.
Lifters might find the flexible front of the shoe a little disconcerting on Oly lifts but I didn't mind it at all. I take an Oly class two days a week and when I switched from BAFs to the Reeboks, I had no problem doing any of the lifts.
Note: I normally wear a size 10 running shoe but decided to get 9.5 in the Oly Lifters to make sure they were snug. I also test drove 9.5 and preferred those to the 10, which was a little loose.
We cannot display this gallery
Pros
The big pro is comfort. These things are super comfortable, fit snugly, and just feel right. Combine those qualities with their versatility and it makes for a powerful training tool.
There are some nice features as well, such as the side vents for increased breathability and the velcro straps that strap towards the inside of the shoe. There's good design going all the way around. The laces cinch done well and don't flop like many lifting shoes I've seen, creating a tripping hazard.
I'm sure you've heard about the U-Form technology where you bake the shoe in an oven for eight minutes and it's supposed to fit better. I did this and didn't notice a difference. However, the shoe is damned comfortable and if the baking actually did something, then I'm all for it. I will tell you that the fit became more comfortable after three weeks of regular wear. I'll say something more about this in the Cons section below.
The sole is comfortable and I perceive it as having a *slightly* padded feel…almost a touch of squishiness. It's a fractional degree, though, and some folks might not even notice.
Last pro, these badboys are eye catching. People will ask you about them constantly. They're spacey looking and I think they're hot, but I've heard some people say they look ugly as sin. Decide for yourself.
Cons
The only major con is price tag. They retail for $149.99 off the Reebok and CrossFit sites. In the pantheon of lifting shoes it's not the most expensive out there, but compared to regular kicks it's a stiff bill. I had to think long and hard about dropping the cash for these. I will say this. If you do some creative googling, you can find a way to purchase them for significantly less than retail and that clinched the deal for me. Email me if you want deets.
Here's another con. During the first week of wearing them I noticed some top-of-the-foot irritation, almost a poking sensation coming from the uppers along the top of my feet. It was minor but after an hour-and-a-half of working out it royally got on my nerves. That has since decreased and I chalked it up to a break in period.
Bottom line
These kicks kick ass. I love them. For CrossFit, I prefer to wear them over any other shoe in my arsenal and that includes Kinvaras, Saucony A5's, Merrell Trail Gloves, Brooks PureFlow, and my trusty BAF lifting shoes. In fact, if I could wear them for every workout, I would, but unfortunately those 400M and 800M runs make that implausible.
I think this is the best shoe Reebok has made that goes on the human foot since the Pumps…true, the Pumps were the last time I wore a Reebok product on my foot, and that was in the friggin' 80's, but that's neither here nor there. That's how strongly I feel about the Oly Lifters. Kudos to Reebok for working with CrossFitters and making a really good product.
If you don't mind blowing a buck-and-half on shoes, get these. You won't be sorry.
Here's a price comparison of some of the Oly shoes on the market as of the date of this post:
Wei Rui – $69
BAF – $88
Adidas Weightlifting Shoe – $90
2012 Rogue Do-Wins – $119
Risto – $119
Reebok Oly Lifters – $149
Nike Romaleos – $189
Adidas AdiPower – $199
Be sure to read this excellent review of the Oly Lifters on the wlshoes.com site.