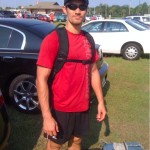 Here's a description of MetroDash from their site:
"…We combined 30 elements into one insane obstacle course that will surely push your physical and mental limits…The Metro Dash course is set up in an area the size of an NFL football field. Competitors will sprint a total of about 600 meters while climbing, crawling, jumping, swinging, and scaling their way through 30 challenging obstacles. The fastest time wins."
Our course was at the Central Florida Fairgrounds in a grassy field. The obstacles ranged from rope ladder climbs to jumping hurdles to monkey bars to short farmer's walks. The obstacles were generally easy, easy enough that even an out-of-shape n00b could handle them. Anything that you couldn't traverse, say the chain link fence climb, you were welcome to walk around. The race was well organized for the most part, except that I found it confusing what certain obstacles were once you started. Since there are 30 obstacles and they are right on top of each other, it was easy to forget mid-race especially when you're sucking wind. I think this could have been alleviated in a variety of ways, either by doing walk-through tours of the course or handling it CrossFit style, with a judge or two following each heat and giving instructions. A heat had only 4 competitors, so it would have been easy to follow. Most of us figured out the course by watching the earlier heats.
My experience: I ran the course with a GoRuck pack loaded with 20#. This made it solidly more difficult, especially on the climbing elements. The cargo net climb, monkey bars, and fence climb were seriously tricky with the extra weight on my back, although certainly doable. Everything else was cake. Most racers finished in the 10′ range…my time was probably around 15′ although I didn't bother looking it up.
The hardest obstacle for me was the sled pull and sled push because it kept getting stuck in the wet grass. I had to beast it through.
One obstacle that was confusing was a low wall with a 15′ rope. I wasn't sure if I had to climb to the top of the rope and go over, or simply use the rope as an aid to get over the wall. The wall was low enough that you could basically straddle over it.
Bottom Line: While I thoroughly enjoyed running the course, it wasn't enough of a challenge, especially considering I had done Tough Mudder SoCal a few weeks ago, which is a million times more monstrous. Metro Dash pricing started at $45, which was too much for this short event. If it was in the same format for next year, I wouldn't sign up. So the bottom line is it's good for a fun, quick jaunt, but won't satisfy the hardcore types who get off on multi-hour obstacles races.
My Recommendations for Metro Dash: Either make the course twice as long or extend the running distances between obstacles to a significant amount. Push this thing into the 30′ range and you're talking about a real challenge. Figure out a way to familiarize the competitors with the various obstacles. It would also be cool to run the course 2-3 times…say you paid a flat fee and could register for up to 3 heats, or perhaps do an elite division where you had to do the course 3 times in a row for time. Something like that.
Since we barely broke a sweat at Metro Dash, me and my peeps went straight to CrossFit Firebase and got our WOD on afterwards. We "celebrated" the return of Danny Padua from Afghanistan, one of the owners, by doing a ridiculous hour plus WOD that included everything and the kitchen sink. Full post is located here.
The main part of the workout was the following:
4 person teams, team splits up the exercises, only one person working at a time.

1,010m Run to 300m Suicide Ladder with markers set at 10, 20, 30, 40 & 50m.
1,010m Run with Kettlebell Carry (50#/30#). 4 kettlebells per team can be transported anyway.
300 Wall Balls (20#/15#)*
1,010m Run with Kettlebell Carry
300 Burpees*
1,010m Run
300 Cauldrons*
Let me tell you, you haven't lived until you've done multiple 1K runs while carrying a 1.5 POOD kettlebell on your neck in the 95 degree Florida heat. It was seriously epic. (One of my teammates accidentally grabbed the 70 pounder, oopsie!) Oh yes, I'd be remiss if I didn't mention this point. The workout had an 80's theme, so everyone was rocking outrageous 80's gear while doing ridiculous crap like hucking wall ball shots. Team GoRuck had a total time of 67′.  Now that's a good workout, son.