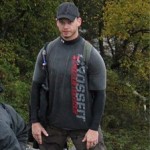 Immediately after doing GoRuck Challenge in December, me and my crew plotted our next big event for 2011: Megatransect. Megatransect is a near marathon distance run/hike up, over, and through Bald Eagle Mountain and the Bald Eagle State Forest in Central Pennsylvania. The distance this year was a cool 25.5 miles. If you're considering Mega after reading this post, know that the 850 slots filled up in 48 hours and organizers are expecting an even faster sell-out for 2012. Next year will be Mega's 10th anniversary.
Before we get into the review, let me say this. You can bet your sweet ass I'll be on my computer with credit card in hand on January 1 signing up again. Mega totally rocks.
Race Description
The race started promptly at 7:00 am. Weather was in the low 40's and drizzling, which complicated the course. You can either run Mega like a normal trail marathon or hike it…definitely a nice option because it opens the event up to folks who can't run a marathon distance, like me.
You start off with 3 miles through the town of Lock Haven and then hit the trailhead. After that it's miles and miles of mountainy carnage. The next 19 miles are a blur of boulder fields, rocks, gorgeous forest, ascents, descents, streams, ridges, more rocks, and mud. The last 3 miles are back through the town with an awful 1 mile run through tall grass called The Green Mile.
All of the stuff that takes place in the middle 19 miles are, for lack of a better phrase, pure trailing awesomeness. There were boulder fields that you'll need 3- and 4-points of contact to climb. There were at least a dozen streams to cross. These stream crossings are not the kind where you gingerly step from rock-to-rock to keep your booties dry. You blow right through them. By the end I was splashing through streams Incredible Hulk style. There is one stream you cross by walking on a fallen tree.
Some of the ascents were complete ball busters. I distinctly remember climbing Goat Path and Gut Check and doubling over with hands on knees mid-ascent. It was fantastic. The descents were treacherous from the rain and will explode your knees. My ACLs and MCLs are still aching as I write this. The trail turned to mud from the rain and runners stumbled everywhere. One of my boyz, Junior, rolled down a section ass-over-teakettle. I ended up on my ass at least a half dozen times. I started descending on the sides of the trail, through the leaves and branches, just to avoid the mud.
You'll get two amazing views, the first at the top of the Boulder Field around mile 7, and the second at Rote Overlook at mile 18. Rote doubles as a hang glider port with an elevation of 2017 feet. We stopped and snapped pictures at both locations.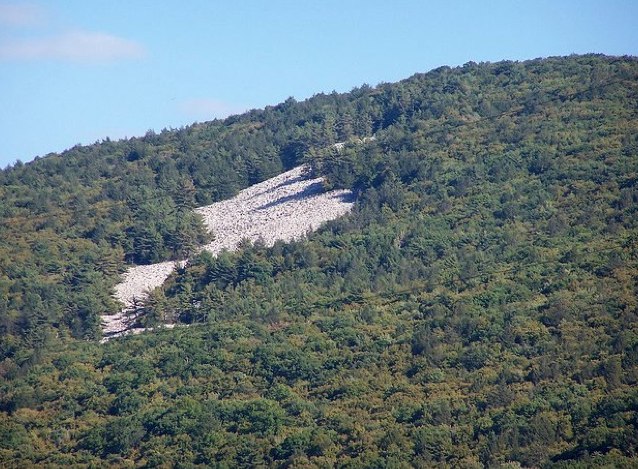 There's incredible variety on the Mega course and I was constantly wow'ed by the eye candy forests and craggy terrain. I lived in the Blue Ridge for two years and hiked my fair share…if I combined all of those hikes I still wouldn't get the same level of variety from 25 miles of Mega. The course organizers were absolutely brilliant with their course design. It was also perfectly marked. There were flags and ribbons every 20 meters or so. There was zero chance of getting lost.
Another note on the course. Some of the trail was pretty rough and seemed like it had been bushwhacked just for the Mega course. Or parts of it would go over a rock pile or up a hill just because it was there. That was super cool because I felt like I was off the beaten path and exploring instead of following a worn trail that a million other folks had hiked already. There was a lot of thought put into the course design and that made the race for me. It was ridiculously technical.
My favorite section was the last quarter mile or so leading up to checkpoint #2 (mile 20). The path led you beside a stream and you slogged through the mud and then switched straight to the middle of the stream on the rocks. I couldn't believe it. Why were we stomping down the middle of a stream? I figured we screwed up and got off course, but no, there were flags everywhere. I tipped my hat to whoever thought that up.
Another hat tip goes to the final ascent/descent, which was another boulder field at mile 21 called Raw Trail. I had some choice names for this trail: Soul Destroyer and Nut Crusher stick in my mind. After 20 miles of humping, the last thing we wanted to do was blow it out on another bitch of a rock crawl, but that's exactly what happened. It was sinister and I know the race organizers were cackling at this final kick in the shorts. Well done, sirs.
If you chose to hike the course, there were three checkpoints you had to hit in order to keep your number and get a finish time. The first checkpoint is at mile 12 and must be accomplished by 1:00 pm. Checkpoint #2 is 5:00 pm at mile 20. Finally, you have to cross the finish line by 7:00 pm to receive your finisher's medal. That's a 30′ mile pace, which is doable if you choose to do a hard hike versus running.
We finished minutes before the 7:00 pm cutoff. I'll talk about our training and race strategy below.
Check out this Megatransect virtual flyby to get an idea of how gnarly it is (video credit Nick Yeates):
Thoughts On Training
For training, I did mostly CrossFit with one sprint session per week at the track. This consisted of something like 8 x 400 meters at my best pace. My crew occasionally got together for a longer trail run, but really not enough to count as proper training. I did a 3 hour stairs workout three weeks prior to Mega and that actually helped a lot. I felt strong on all the climbs, both power-wise and aerobically.
With that being said, my evaluation is that our training pretty much sucked. CrossFit does almost nothing to prepare for a trail marathon. We hiked it and were fine, but my knees started hurting mid-race. After the Raw Trail, my knees were completely shot. I had 20ish good miles in me and had to hobble the last 4 miles to the finish line. I would have been in big trouble if I had to run the whole thing.
The best training for this is running and hitting the trails. I do think it's useful to strengthen your knees in the gym, like I described in this post, because the descents are hell on your connective tissue. But besides that, you just got to spend time on trail. There's no substitute.
My Experience
Me and my boys–Junior, Transporter, FTP–hiked it as a team and enjoyed the hell out of ourselves. We yukked it up, soaked in the unique experience of Mega, and enjoyed some serious guy time. Our only competitive goals were to hit the checkpoints and we did that no problem.
Two of the guys in my group had never run marathon distance before and one of the guys had never gone more than five miles in any kind of single run. Using our team skillz, we got him to traverse five times that distance. I'm really proud of the way our group performed and stuck together. There's a huge spiritual payoff for overcoming a challenge like Mega as a team. I've done solo marathons and trail runs before and it doesn't compare to the team experience. I think this is why events like GoRuck Challenge and Tough Mudder are becoming so popular, because they focus on the group.
What also struck me was that we incorporated all the lessons we learned from GoRuck and the various other events we've done this year. This was like an advanced team racing course for us and that made it really special. One of my top 5 athletic events that was similar in demand was Tough Mudder SoCal, except that Mega was many times more epic. Mega is now firmly planted in my top 5.
Lastly, the whole time I was doing Mega, I couldn't help thinking we were like the fellowship from Lord of the Rings traversing Middle Earth to reach Mordor. Throw in some Orcs, an Ent, and a Ring Wraith or two and we've got a fantastical journey. The landscape was so interesting and varied and the course was hella challenging that it fired up my imagination.
Gear and Nutrition
It was cold and rainy, so I rocked Under Armour compression top and tights. I also wore a Goretex shell, gloves, and a hat. On my back was a Gregory Wasatch 12, which is an amazing light bag. We got made fun of by the local racers who were wearing friggin' running shorts and long sleeve t-shirts, but I tell you it was cold out. Just to give you an idea, the next day as we were leaving, it started snowing.
Footwear: Merrell Trail Gloves. These sucked on the 6 miles or so of blacktop, but performed brilliantly on dirt. I had absolutely no problems with my feet, not a single blister. My pal FTP rocked 5.11 Taclite combat boots and he said those were awesome on the trail also. Transporter wore Inov-8's and Junior had Saucony Peregrines.
Food: Various gels, shot bloks, and bars. We were humping for 12 hours, so we ate a lot. I also packed a PB&J and that was heavenly. I filled my hydration bladder only halfway, which was perfect, and hit up the various water stations. If you're fast, you could probably do the entire race with just a couple of gels and a water bottle. There's some nice planning that goes into your hydration and food strategy, especially if you choose to hike versus run, and that's part of the challenge. I also pounded two rhodialas and an Advil and that did wonders.
Bottom Line
Bottom line is Mega is a unique and amazing challenge. The course is brilliantly designed and that takes it to another level. I did a bunch of obstacle course races and mud runs this year, all fun, but Mega is the absolute King under the Mountain of these type of races. It makes Tough Mudder look like a slip-and-slide. Mega has obstacles too: boulder fields, extreme mud, creek crossings, jumping over fallen trees, sliding down hills, crazy climbs. I loved it. Pencil this one in if you're ready to do a big boy race.