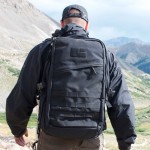 The GR2 is the new flagship product from GoRuck, a backpack and gear company that has it's manufactoring facilities in Bozeman, Montana. Also called the XL Overnight Ruck, the GR2 has a gear swallowing 48 liters of space and weighs just over 5 pounds unloaded and dry. I've had the good fortune to ruck with the original GR1 on several occasions, also a significant pack, and when I pulled my shiny new GR2 out of the box, I was a little bit startled. It's a beast of a bag, much bigger than the GR1.
Looks-wise, it has a restrained and minimalist handsomeness while still catching the eye because of it's size, shape, texture, and color. Casual backpackers will likely ask about it as you roam around town and a closer inspection by the bag aficionado will reveal it's killer craftsmanship and high dollar materials without screaming ostentation.
Cost on the GoRuck website: $395 (includes free shipping).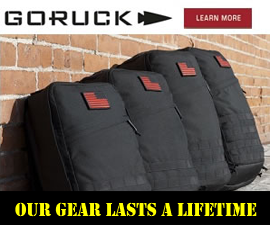 Pro's
Constructed of grenade-proof 1000 denier Cordura, the GR2, like all GoRuck products, are tough as nails, rhino strong, and built to last. And when I say built to last, I mean last for decades. If the $400 price tag gives you pause, consider that you might very well have this bag for the next 30 years, at least, and perhaps for the rest of your life. I can envision scenarios where these things are handed down from father to son, mother to daughter, for future GoRuck Challenges in 2040, where the offspring of Jason McCarthy (or Jason himself) are leading GRC classes on Mars. Why not?
There only a handful of personal effects I don't mind shelling out a premium for because I know the item will last forever — thus making it an investment. That list includes: jackets, wrist watches, jeans, and luggage (packs fall in this category). If you overspend on those items, you'll 99% of the time be pretty happy with the purchase in short order, and after a couple of years you'll consider it a great value because you realize you won't have to replace it. At least that's been my experience.
GoRuck bags are designed to be abused, and in fact many of it's owners prefer to cultivate a worn-in and distressed look. If you're only using the bag as a daily commuter or weekender, there's no question it will last forever. This thing is designed to withstand getting dragged behind a truck.
If you're a hardcore backpackologist and worried about wearing out your investment, check out this warranty, posted on the GoRuck website:
GORUCK gear gets better with time and use, and is not meant to be replaced. We will happily repair, free of charge, Scars earned under our standards of abuse, which are excessive. In addition to adventure, we also love fire, bullets, knives, and chainsaws, but they do not play well with others and will leave Scars beyond the realm of normal repair. We're happy to stitch up any GORUCK gear that's been burned, shot, slashed or sawed for a reasonable repair charge. Please identify on your Scars repair form if your request is beyond the normal realm of repair.
For repairs, it's not necessary to provide a receipt. That's pretty cool.
Other features:
The pack has two main (large) compartments, a laptop / hydration compartment against the back, and a smaller exterior compartment. You can put a shitload of stuff in the GR2.
Internally, it's festooned with huge zippered mesh and non-mesh pockets. It's organizational ability is on par with a field medical kit.
A fair amount of molle webbing, both internally and externally, for adding mods.
Two compression straps that can also be used to strap accessories and gear.
You can get it filthy dirty and hose it off, although I prefer mine with a few mud smears around the edges.
Con's
My major gripe with the GR2, and it's not a trivial one, is the lack of a framing system or hip straps. It's simply not designed for heavy ruck runs. I rocked a GR2 for the 083 GoRuck Challenge with nearly 50 pounds of load and after 13 hours it brutalized my shoulders, lats, upper and lower back. The problem, as I see it, is the temptation to overfill where it exceeds it's reasonable portability and comfort range. Thus, all that space is a two-edged sword. Load those compartments carefully. I'd love to see a GR2+ version in 2012 that included hip straps.
With that in mind, consider the niche the GR2 is filling and how you might use this particular piece of equipment. A gear bag for the CrossFit gym? Yes, but likely overkill. A daily commuter with your MacBook and bag lunch? Great. A medical kit or tactical go-bag? Yes! A weekender with a couple of outfits, shoes, and snacks? Awesome. A 3-day trip on the Blue Ridge with 40 pounds of gear and 20 mile hikes each day? I can't recommend that. Other GoRuck geeks might disagree with me on this point, but I think you should use the right tool for the job. There are plenty of quality bags on the market at the same price point or less that have hip straps and framing systems.
The other con is cost, and I pretty much spent the entire Pro's section arguing for the value of a $400 bag. You're paying a premium for the badass materials, superior craftsmanship, and made in America cred. Plus, there is that great warranty and awesome service, both of which have value. Still, it's a $400 bag and not everyone has four hundred bones to shell for a backpack.
Other minor gripes:
It would be nice if there was some kind of hanger or clip in the top interior of the hydration compartment to hang your hydration bladder. Otherwise it shifts around.
I'd like to see a couple of drain ports on the bottom exterior to allow water drainage if you ever get a bunch of water inside this thing (think doing flutter kicks in the ocean with a GR2 on your back).
Bottom Line
Bottom line is this is a high quality bag that is indestructible, has tons of space, and shows understated, handsome looks. It will last forever. You will probably fall in love with it. You will almost certainly take pictures of it in cool locales and post them on Facebook. It's a niche item at it's price point and functionality, but I think that's what GoRuck intended.
What the GR2 reminds me of is a certain kind of car. I compare it to a Jeep CJ-7 in perfect condition (note: I love Jeeps). Rugged, fun, shitty on gas, not very comfortable, but a perfect weekend warrior. Would you haul your homeys around on a multi-state road trip? No, put you can pick up chicks at the beach and have a great time with one.
We cannot display this gallery