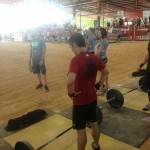 In its second year, Beast Mode Battle (BMB) is hosted by CrossFit Militia of Lauderhill, Florida. BMB boasted 334 competitors, making it one of the biggest regional events of the year. As usual, the men's side of the house was well represented, with 199 male competitors between the Rx, Masters, and Scaled divisions.
The BMB claim-to-fame is a unique format where all events are back-to-back and completed in exactly 60'. I'll explain below.
The setting
The setting was the Bergeron Rodeo Grounds. I've never competed in a rodeo stadium…scratch that, I've never been in a rodeo stadium, so this was a cool experience. There was ample space for spectating and the roof with huge fans made it reasonably cool. The competition floor was packed dirt. The dirt made the shuttle runs, walking lunges and burpees a little more challenging.
My gripe with the venue was the audience couldn't get right up close to the competitors during a WOD. You could climb on the fence and do some cheering, but you weren't really close to the action. One of my favorite aspects of a CrossFit competition is the ability to get super close and feel the energy…think courtside seats for a hoops game. That closeness in CrossFit is part of what really makes it special. See my review of Wodapalooza for how that works.
The Format
There are four WODs and all four occur within a 60-minute timeframe, with short 3' rest periods in between. Thus, the first WOD was a 1RM bear complex with a 12' time cap. Rest 3' and then move to the next station. Repeat.
The format is a lot of fun and very intense. Since the middle two WODs have a high aerobic impact, the short rest period ends up killing you by the third and fourth events. Consider that you've been working for nearly an hour by the time you get to the end and you get a sense of how draining it can be. You can't expect a max effort by the last WOD.
Also noteworthy is the first WOD is scored on a power-to-weight system, giving an advantage to people who are light and super strong. Example: if you lifted 250 and weighed 160, that scored you ahead of a guy who lifted the same load and weighed 185. This narrowed the gap somewhat for small dudes like me.
I enjoyed the format because it was unique, but I prefer the classic format of 3-4 WODs spread throughout a day. Why? Besides the increased rest time, I like hanging out with the other competitors, going through the pre-WOD preparation process, and talking about what happened post-WOD. The athlete journey that occurs over a day of competition is one of the real joys of competing. I feel like I'm immersed in the experience throughout the day.
It's worth noting that BMB didn't get off schedule by a single minute. That's hard to pull off with 300+ competitors. I want to give the staff and volunteers huge props for running an airtight event.
My experience
I PR'ed on the first event, the 1RM bear complex, and performed to my expectations on the 2nd event, which was a metcon with a 12' cap. I blew my load on event 2 and had no gas for the third event, which was a real asskicker. Event 3 was one of the hardest CrossFit WODs I've ever done. I was smoked well into the burpee movement on WOD 4.
A highlight of the competition was the shotput, the final movement, which was a lot of fun. Big hat tip to the programmers for making creative, tough WODs that were still doable.
I've been purposely focused on strength training and neglecting aerobic development for the entire year, so the impact of the metcon WODs was not unexpected, although it's something I'm not used to. My plan is to stick with my training plan of strength first and aerobic second until well into the fall and switch gears with a target of Wodpalooza 2013 as my peak event.
Cons
The scoring got bolloxed up, with multiple competitors having the wrong weight listed for event 1, throwing off their scores. My score was never entered and I had to have them fish my scorecard out of a pile…not sure what happened there. This was a minor inconvenience as Red Belt Digital was super friendly and fixed everything asap.
The only serious grumble I had was when the organizers only recognized the first place champs in the non-Rx categories. Thus, if you finished second in the Masters events (two of my friends did), you didn't get to stand on the podium. We weren't pressed for time so it was kind of inexplicable why this happened. I know one of the masters competitors waited around for hours just to stand on the podium and he was pretty pissed when he didn't get his number called.
One suggestion I'd like to make to the organizers of any CrossFit competition: instead of giving away prizes and gear to your top 3, give out medals or even small trophies. Everyone loves a medal and they're relatively inexpensive. We do this in rowing (and many other sports) and some of the medals I've won I absolutely cherish. I don't need a gift certificate or duffel bag to show that I've won something.
Also, make sure everyone gets to stand on the podium that deserves it!
Final Thoughts
Beast Mode Battle is a good addition to the competition calendar, especially if you're looking for something different. It exploded in size from 2011 and looks to continue its popularity with its unique format and scoring. It might not be for everyone, though, as the format can be a killer if you're not used to WODing for 60 minutes straight.