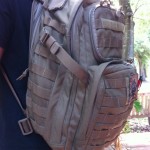 The Rush 24 is a mid-size backpack offering from 5.11 Tactical. I'm a fanboy of 5.11 Tactical gear and I've done long term tests of several of their items, including the Rush 24. (Full disclosure: 5.11 provided me with all of the gear to review.) If you're interested in a review of the MOAB 10 shoulder bag, check it out here: Rush MOAB 10 Shoulder Bag.
I use my Rush 24 six days per week primarily as a gear bag when I go to the CrossFit gym, but it's also my go-to bag for overnighters and weekend trips. It has a generous 2000 cubic inches of space in the main compartment and plenty of pockets and pouches for smaller items. Dimensions are  20″H x 12.5″L x 8″D. See their product description page for a full list of features. There are WAY too many pockets to tour all of them in this space, so I'll let the pics below do the talking. I will say my favorite pocket is the sunglasses pocket…I use this little fleece lined fella virtually every time I step into the gym and it's an ingenius addition.
If you're a regular CrossFitter like me (3 years and counting!!) you'll understand when I say that I've accumulated a disturbing amount of gear and I bring all of it to the gym, every day. Here is a partial list, all of which fits into the Rush 24 no problem:
Running shoes
Olympic lifting shoes
Paleo kits
x3 jump ropes
Sunglasses
Logbook
Sunblock
Various wrist wraps
Lacrosse ball
Cellphone
Water bottle
Other fluids, like protein shake and/or coconut water
There are days where I pack barbell clips, stretchy bands, more food, a full change of clothes, and even my laptop. The hydration compartment is voluminous enough that my MacBook Pro easily fits in there.
Get the picture? The Rush 24 gets it handled. There are so many zippered pockets and pouches that everything stays nicely organized. Having everything exist in a snarled mess in a duffel bag is a thing of the past.
What I like
The storage capacity is awesome. It is almost but not quite overkill for a gym bag. It's perfect for a weekender bag, which I've used it for at least a dozen times. It's extremely rugged, constructed with 1050 denier nylon, and I have no qualms about throwing it around on pavement or gyms floors. This thing is tough as hell and well crafted. I would expect to own this bag in good condition for decades, if not for life.
I find it completely comfortable to wear even when fully loaded. The strap system doesn't put any weird pressure on my shoulders or back. It feels balanced. I haven't tried rucking with heavy loads using this bag, although I'm considering using it for a GoRuck Challenge in the future. 5.11 is releasing a Brokos belt product soon that can attach to the lower buckles on the Rush 24, adding a nice waist strap option.
The Rush 24 has rugged good looks and is definitely a head turner. I get asked about it all the time and one dude at my gym purchased his own after checking mine out. It has a clear military / tactical look and feel, so you have to be into that.
Last but not least, you can't beat the price. Cost is $139.99 with four color choices and they have a kickass multicam version for $179.99. You'll be hard pressed to find a bag of similar quality and design for less money.
What I Didn't Like
There really wasn't anything I didn't like about the Rush 24. The only knock that some gearheads might have is that it's not made in America (it's manufactored in Vietnam), but the craftsmanship and materials are so good that it didn't bother me. That's been my experience with all 5.11 products. Plus, I'm a baller on a budget, so getting stuff that is quality and affordable is a big deal.
There was one zipper endcap that somehow disappeared (see my picture above). Not sure what happened there but it's worth noting.
Bottom Line
Great bag. I use it every day and plan on using it every day into the foreseeable future. I'd like to do some heavy rucking to really put it through its paces, so when that happens I'll report back.
Also, cats love 5.11 backpacks. I'm not sure why, although perhaps it's the profusion of Molle webbing. My cat has been sitting on the Rush 24 literally all day. This is either a pro or a con depending on if you like cats.