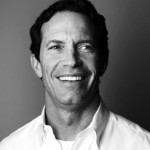 On a recent business trip to Orlando, Tom Davin stopped by CrossFit Firebase for a mid-afternoon WOD. I was fortunate enough to be able to conduct a quick interview. This is the first time I've met Tom and I was thoroughly impressed with how down-to-Earth and how willing he was to share his time…not to mention he hammered through a tough chipper WOD in 90-degree Florida heat. Tom is the CEO of a 5.11 Tactical, a company that landed on the Inc 500 in 2007–Inc magazine's annual list of the fastest growing, privately-held, U.S.-based companies by revenue growth. 5.11 specializes in tactical clothing and gear for law enforcement, firefighting, and military professionals.
A good friend of mine works for 5.11 and I've watched them grow from a relatively small company with just enough products to feature on a tri-fold brochure to a national brand with an impressive catalog. They recently released their Recon line of fitness gear, which includes WOD shorts and WOD shoes that are gaining traction in the CrossFit market.
Tom, a former marine infantry officer, maintains his fitness with CrossFit (5.11 has a box at their Irvine offices), kettlebell training, and various outdoor events like the Pendleton Mud Run and a rim-to-rim hike of the Grand Canyon last year.
See my review of the 5.11 Tactical Rush 24 Backpack or review of the 5.11 Rush MOAB shoulder pack.
Interview
What did you think about the 2013 CrossFit Games? What was it like having 5.11 there as a sponsor and a major presence in the vendor village?
The 2013 Games were incredible. I believe over 20,000 spectator tickets were sold out in minutes, up from about 10,000 spectator tickets last year. As many of our 5.11 "athletes" in the law enforcement, fire, military and EMS communities have embraced CrossFit, we continue to expand our relationship with the CrossFit community. This year we exhibited in a 20′ by 20′ booth next to RockTape and the entrance to the Beer Garden. Hundreds of friends and 5.11 operators stopped by so it was a great experience. A highlight was our 5.11 Challenge in the Pavilion area where we ran a competition that combined burpees, a wall climb, ram breaching our 5.11 Training Door and a rescue drag of a 165lb dummy. I knew we were on to something good when some people came over from the Rogue Fitness tent to say "that event is badass!"
What do you think about the growth of CrossFit from 2007 to now?
I attended a Cert in late 2007 at the Orange County (CA) Fire Authority. The instructors included Coach Glassman, Dave Castro and Nicole Carroll. It was clear that Coach and the key leaders of the movement had created something special by combining community with the quest for the most effective fitness programming. It seemed then that the movement had potential, but CrossFit's growth has far exceeded what I would have expected. No doubt the Games helped. I was at the Ranch in Aromas in 2008 when Panda Express was one of the first sponsors, but who could have anticipated that the Games would be a global event, televised on ESPN?
5.11 released a new fitness/training line recently, is CrossFit something that 5.11 is specifically looking to move into?
At 5.11 our product development efforts are led by end users and operators. Many of these people work out in "boots and utes" — for example look at Pavel and the StrongFirst movement. So our end users asked for fitness product and came to us with specific recommendations. As we looked at the market space we agreed there were unmet needs and room for 5.11 innovation so we got to work. As many operators are CrossFitters we're getting good feedback on our new 5.11 Recon line. We'll continue to expand the line by adding colors and innovations where we identify unmet needs.
What kind of feedback have you gotten on the Recon fitness gear so far?
The Vandal short and Recon Trainers seem to be getting the most enthusiastic feedback from the CrossFit community. We added Helcore (synthetic leather) to the Trainers, so people are giving them a workout on the ropes to see if they meet the brief of being 10 times more abrasion resistant than leather. So far so good! Of course I just like to say "our shoes have Helcore."
How did you first get into CrossFit?
In early 2007 a friend introduced me to CrossFit and one of the first WODs I tried was Angie. I was brutalized but knew I was hooked.
Do you have a favorite WOD?
Fight Gone Bad is my current favorite as I love the diversity of movements and the way you can move a group through the different stations.
What is your least favorite WOD?
My old friend Fran kicks my butt as thrusters are still a goat.