I did a kickass 5-day trip through Southern California as part of Memorial Day holiday that culminated in the Tough Mudder SoCal event. Tough Mudder was truly epic and I'll give a full review in my next post.
In the meantime, I checked out two CrossFit gyms and got my WOD on prior to Tough Mudder. I love visiting other gyms to see what the setup is, what the athletes and instructors are like, and what the vibe in general is. I wasn't disappointed.
First, there was CrossFit Invictus in downtown San Diego. I drove there straight from the airport and did the 6:30 pm WOD. They have a very cool space and great instructors. The instructors and athletes couldn't have been more welcoming. We went through an extensive warmup that included dynamic stretch exercises and some mobility work with bands, all very welcome after spending the day on airplanes.
Next up was a strength training component and we worked our way up to a 3RM max deadlift. I PR'ed with 3 reps at 285 (previous was 275). Then we busted out "Jackie," which is 1000M row, 50 thrusters (45#), and 30 pullups. I posted an 8:09, which is also a new PR. I felt great afterwards and was ready to explore San Diego and get some of that killer local cuisine. If you're in town, I highly recommend Invictus.
The next morning I drove to Encinitas, a super cool beach town north of San Diego, and walked around Swami's Beach for a couple of hours. If you've never been and you're in SoCal at some point, I highly recommend checking Swami's out. It's absolutely gorgeous, with cliffs falling straight to the beach and interesting flora sprouting out of the rocks. There were tons of surfers out, as Swami's has sick waves, and the weather was perfect. I was enjoying the hell out of myself.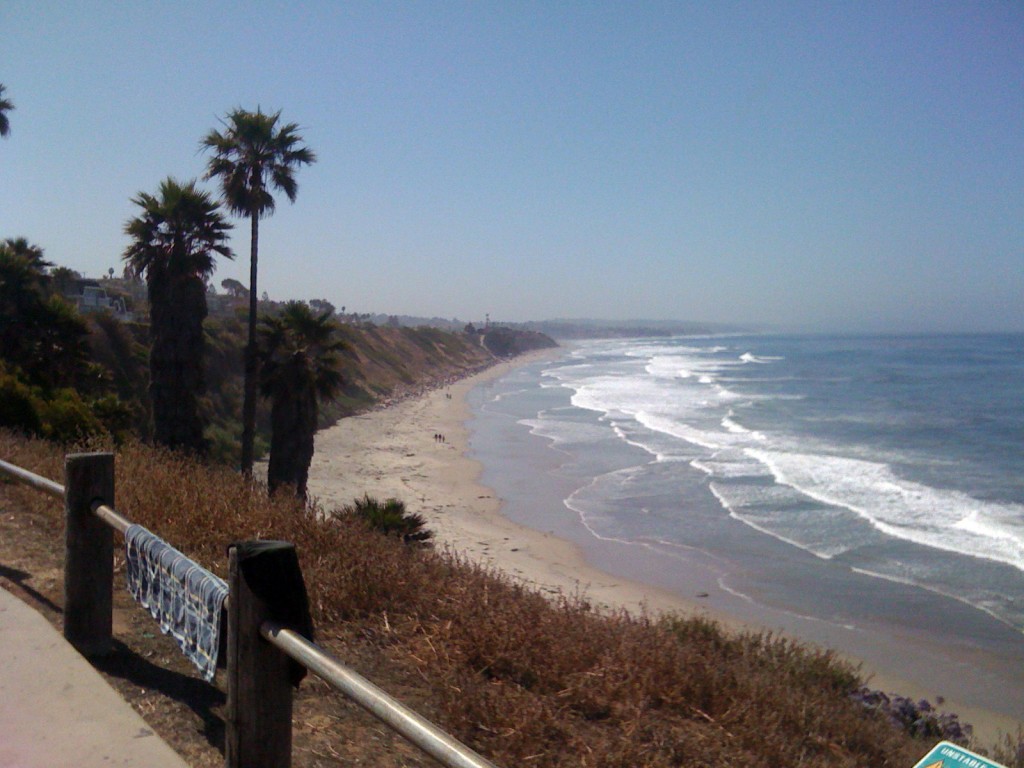 I'm considering doing Kokoro Camp in 2012, so I recon'ed these structures: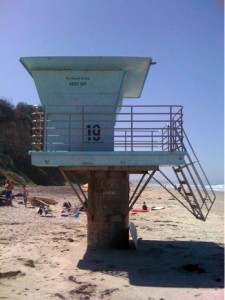 …which are featured in this SealFit Part 9 video.
Next up, I visited SealFit HQ, aka US CrossFit, which is just a few blocks from Swami's. I think the SealFit program is the bomb and I'm basically a fanboy, so it was a treat to visit the facility where the magic happens. It consists of several buildings surrounding a concrete courtyard which serves as an outdoor workout floor, aka "The Grinder." A Pro Shop and offices are in one building and in another is a studio space for additional training and whiteboard area. There is also an adjacent building with a yoga studio. When I think of a southern California gym, the SealFit facility is exactly what I envision.
1200 WOD: I signed up for the noon WOD. Noon is attended by a group of 7-8 competitive guys, all around my age, and it was a a major ass kicker to work out with and against those dudes. The vibe was definitely balls out, take no prisoners, and the instructor, Dan Miller, pushed us hard. I loved it.
Here's the workout:
2 person teams

Part 1 – Run 200M, 12 thrusters (95#), 12 pullups, 6 thrusters, 6 pullups

Part 2 – 40 wall balls (20#), 20 burpees

Part 3 – 15 C&J (95#), 80 double unders

Part 4 – Run 400M, then 5 rounds of 7 pullups, 12 pushups, 17 air squats
Notes: Person 1 completes all reps of part 1, tags partner, then person 2 completes Part 1. Tag, and then go straight to part 2. One person is resting and judging reps while the other person is working out.
My partner, Steel, and I rocked it out and finished in 34:34, which was the fastest time of the class, but were trailed by only a few seconds by the next finisher. It was intense. My weaknesses were wall balls and double unders, but I moved through the Part 1 and Part 4 pretty well. Don't let the rest time fool you, this was a nasty WOD because we were going 125 MPH on each part. Afterwards I was completely smoked and had to chill out on the grinder for 20′ before leaving.
Big thanks to those guys for letting me participate, it was a major highlight of the trip. There's something special about rocking a tough WOD with a group of hard hitting bros.
Oh yeah, I was wrecked after the workout and my legs were feeling it the next day at Tough Mudder. Full review to follow…
Airplane reading: War, by Sebastian Junger, and Lone Survivor, by Marcus Luttrell, both excellent reads. I couldn't do the Memorial Day Murph because of my travel schedule so I substituted those two books.