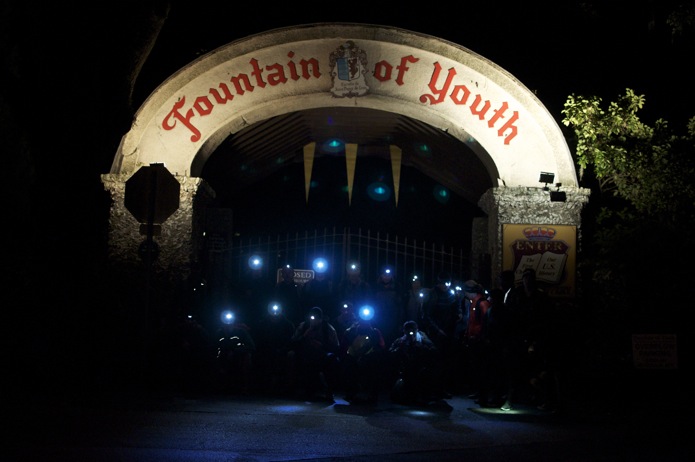 Mission accomplished. I completed the GoRuck Challenge (St. Augustine) on December 29th along with 22 other hardy souls. The final tally was 10 solid hours (7:00 pm to 5:00 am) and somewhere between 22 – 24 miles in and around St Augustine, which sets the record for distance and time for GoRuck. Air temps were in the low 40's and the ocean temperature was in the low 50's.
GoRuck is completely epic and I have a lot of thoughts and emotions about this event, so let's dive right in.
Setup
In a nutshell, GoRuck Challenge is a long group run through a city with a GoRuck backpack loaded with three 6 pound bricks, a camelbak bladder full of water, food, and any other gear you care to carry. I estimated my pack was at or just over 30 pounds. The entire group runs together either single file or in two lines side-by-side and is lead by the instructor, Jason McCarthy.
The Challenge isn't a competition, ie you're not trying to beat anyone to a finish line. The event is closer to a military exercise, or "evolution," and the entire team must work together to survive a grueling physical challenge while being tested mentally and emotionally. Besides the running, there were stops along the way for pushups, flutter kicks, squats, buddy carries, bear crawling, etc. Jason is totally insane and absolutely will push you like a drill instructor. He was constantly pushing us to run faster and go harder. There is nothing about this event that is comfortable or easy.
I'm a decent runner, have run 1 marathon and a dozen half-marathons, and I thought the running component was extremely tough, not just because of the distance but because of the weight you're carrying. We were running in single file or doing two lines of Indian runs for almost all of the miles. All told, there was probably 15 miles of Indian runs. The group was difficult to keep in tight formation because there was such a wide range of physical ability, fitness level, and foot speed. Another issue was we covered so many miles, everyone was exhausted and had dead legs partway through, and for the last 8-10 miles we were only able to muster a fast walk. I figured I was in the upper 50% in the group for speed and fitness and I was still crawling by the end.
Another sucky element was that we were wet and sandy for every second of the Challenge. The very first thing we did was walk through mud and do pushups and flutter kicks in a creek. After that, we ran to two different beaches and did more PT in the water, so there was never a time where we weren't soaked.
Lastly, we were told not to wear watches, so we lost all sense of time as the night progressed. It was hard to tell if it was midnight or 3:00 am after we really got into it. The hours just flowed, especially after the city shut down and we were the only creatures on the road.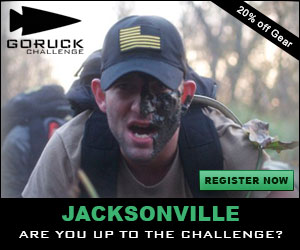 Gear
I thought having the right gear was critical to getting through GoRuck and in this is one area I did well. I knew it was going to be cold and we were going to be wet, so I did my best to assemble an outfit that would combat the conditions. Here's what I kitted out with:
Compression tights from 511 Tactical with board shorts over that. This worked well. It didn't retain a lot of water and still kept me warm.
Old Asics running shoes and coolmax socks. The shoes were a mistake, which I'll explain later. Socks were awesome.
Long sleeve Coldgear compression top from Under Armour (Excellent).
Hoodie sweatshirt.
Goretex rowing jacket, which got heavy when wet but still kept me warm.
Snowboarding gloves
Nike fleece warmie cap (excellent)
Petzl headlamp.
Food included 4 Accel gels, 2 Shot Bloks, Oh Yeah! bar, 12 ounces of Accelerade, and trail mix. I ate everything and wished I had more.
As I said above, we got completely soaked in the first 5′ of the Challenge. There is simply no combination of gear that will handle this perfectly, but my outfit was close. I was wet the whole time and still reasonably warm. I kept my gloves and hat in a dry bag inside my pack until after the initial creek soaking and that was HUGE. Keeping my hands and head warm for the majority of the night kept me in the game. Some of the other guys were shivering from the wet and cold and I could tell it was sucking for them.
My Asics are a year old and have too much extra padding and arch support, and I think this led to serious problems with my feet after about mile 10. My feet and ankles were absolutely killing me after that point and I've got a foot injury several days after the event that I'm blaming on my shoes. I have a killer pair of shoes that I think would have handled the run better, Saucony Kinvaras, but I didn't want to use them because I didn't want them to get trashed. So now I'm paying for it. I'll review my injury situation later.
Highlights & Lowlights
There's so much that happened I could write a book on it, but I'll hit the highs and lows. We met at the Castillo de San Marcos, which is the oldest fort in the country. Every resident of Florida has visited the fort at one point or another, and it was really neat for me to revisit under these circumstances. The fort is really cool looking at night. It should also be noted that St Augustine is a neat town beach town and the night was cloudless and absolutely lovely.
We met Jason, were issued our packs, signed waivers, and organized our gear. Then we formed up and jogged to the backside of the fort, which is on the edge of the Intracoastal. We climbed down a wall, slogged through shoe sucking mud into a gnarly creek, then did pushups and flutter kicks in the water. We were completely covered in mud and soaked. It sucked but we laughed about it.
After the creek slog, we Indian ran to the beach (4 miles). More pushups and flutter kicks in the surf, and another thorough soaking. Keep in mind the water temps were in the 50's so we were freezing our asses off. We also had beach sand in and on everything. This would become problematic for me later.
After the beach PT, Jason introduced us to a massive log we nicknamed "Old Misery." It was basically a section of a telephone pole and we thought it was probably 1000 lbs or more. Who knows how much it really weighed, but that log was a real bastard. All 22 of us got on the log and we carried it a quarter of a mile down the beach and chucked it into the ocean. Jason said it was the biggest, heaviest log that any of his classes had ever carried. "This is a truly hellish log," he said. It was brutal on the back and shoulders and it took us damn near an hour to move that log down the beach. We weren't sad to see it go.
After the log, we ran back to downtown St Augustine and did team buddy carries through the main strip, past several blocks of bars and restaurants. We got lots of funny looks from folks. This was relatively easy and the funnest part of the night. After the buddy carries we took a short food and rest break in a park in downtown. At this point spirits were high.
After the break, we did a run through Flagler College and finished off our tour of downtown, which was scenic and nice. Then we started in on the real running volume. We did a 5 mile Indian run south along AIA and out to Anastasia State Park. This took forever but everyone was chatty and having a decent time of it. I was in a groove and running well at this point.
We jogged to the beach in Anastasia, then did bear crawls and crab walks into the surf. Once in the surf, more pushups and flutter kicks. This really sucked because everyone was exhausted and it was late at night. We had been running and working out for more than 5 hours.
After beach PT #2, Jason took us on a long beach run to the northern tip of Anastasia State Park. As beautiful as this stretch must be in the day, it completely sucked right then. It was pitch black dark, we were doing Indian runs in soft beach sand, and it was windy. Once we reached the tip of the island and saw the lights of downtown St Augustine in the distance, we realized a horrifying truth…we had to turn around and cover the same miles back. There was no way to exit the island without retracing our steps. We were probably eight miles out from homebase with two of those miles in sugary beach sand. Everyone was exhausted, hobbled, dehydrated, and bonking. This was where my mental state turned from "upbeat" to "beaten down."
The run back was the longest, most brutal, darkest stretch of running that I have ever done in my life. There were several long stretches where I was mentally checked out. My feet hurt so bad I was worried that I wouldn't be able to keep up and I spent most of the last few miles hanging onto the back of the group. It royally sucked. With two miles to go, three of the athletes were limping badly and couldn't keep up. We were forced to buddy carry them the last two miles, which further slowed us down. I was too screwed up to take a turn carrying people, but I did carry an extra backpack and extra brick for several miles. For the last couple of miles I was so hobbled I could do nothing better than a walk. It was dark and shitty.
With about 500 meters to go, we did a full team buddy carry, with 10 carry-ers and 10 carried. I was one of the guys being carried. We all crossed the finish line together.
Injuries
My shoulders hurt like fuck from lugging all the weight and I've been having muscle spasms in my left shoulder since GoRuck. My legs were completely shot with like 5 miles to go and it was obvious I wasn't properly trained for marathon distance under load. Still, I was keeping up with the group and I was one of the faster guys for the majority of Challenge.
My legs were so sore I basically couldn't walk for 36 hours after GoRuck. In particular, my ankles and feet took a beating from the weight and from running in all that beach sand. Combined with my shitty shoes, I believe I've developed a stress fracture in my right foot. It hurts like hell as I'm writing this and I can't put much weight on it. If it stays the same, I'll go to the doc and get treated. I'm not sure how I could have avoided the foot injury except with less weight and different footwear.
Lastly, because of the beach sand and wetness, my inner thighs chaffed like a mf'er and I got rashes the size of fists on both thighs. It was a huge miss on my part to not use vaseline or something to prevent this.
2010 was a great year for me athletically and I'm fitter than I've ever been from doing a combination of Crossfit and weight lifting with a personal trainer. Without the killer fitness, I don't think I would have been able to finish GoRuck without some kind of serious knee or ankle injury. My body isn't well designed for long distance running, but I'm pleased with how I performed overall in something I don't specialize in.
Post Mortem
I've had a ton of mixed emotions after GoRuck and I'm not sure how to feel about it even right now. I loved parts of it and hated parts also (especially the last 8 miles). When I say hated, I don't mean hated like it was just a little sucky, I mean I hated it like it felt like a death march and there were moments where I didn't believe in the endeavor anymore. I enjoyed sharing the experience with my Crossfit friends and that unique, shared experience I wouldn't trade for anything. It's something that will stand out for me for the rest of my life. But man, there were some really shitty parts and those lasted for hours.
After it was over, my pals and I talked about how we thought it was too long and the pace was too aggressive. The pace was such that basically the slowest members had to push themselves to injury. On the GoRuck website, it's advertised as 12-18 miles and a 7 hour endeavor, which was significantly different fromt the 24 miles and 10 hours we put in. This flies in the face of all my other sporting experience and I had/have a real problem with the fact that the parameters changed and we weren't prepared for it. There's a big difference between training for a 12 miler and a 24 miler. Also, it's reckless to take us for so long from a hydration and food standpoint; everyone ran out of water and food with hours to go.
I loved the physical challenges and would like to have seen more of that and less running. Obviously, the Challenge was extremely difficult physically and mentally, and I think there were a lot of teachable moments that we missed because the emphasis was on covering distance and pushing the pace. Why not trade in some of the miles for more team building challenges like the log or buddy carry?
Also, check out the emotional arc I went through. When I first researched GoRuck, my initial reaction was no way, it's too much running with a pack and I'm not built for it. My pals convinced me to sign up, so I researched it by watching video, reading the blog, and reading comments on the Facebook page. It's marketed as as fun and challenging event, and after reading I warmed up to the running. I figured with a huge mixed group, there was no way the running could be that bad. So I switched from thinking it would suck to thinking it would rock. I signed up, started the run, was given a reality check when the pace was more aggressive than I expected, and then found out hours into the Challenge that we were going for hours longer then advertised. That demolished all my expectations and gave me a negative reaction right after the event was done.
Further Analysis
After much discussion with a couple of friends and reading about Jason's background from Special Forces, I did some research to see if there was another lens to view GoRuck through. If you look at the training programs of Special Forces, you'll see that they often do hellishly long, grueling workouts that are designed to grind you down, take you to a physical breaking point and test your mental and emotional resolve. In fact, you could argue that the mental and emotional components of elite military training are just as important as the physical part. Further, military training isn't "like sports." It's more team-oriented, doesn't have the same codes of sportsmanship, isn't as organized or bound by rules, and isn't designed for winning or losing. They call the training "evolutions," as in breaking someone down and building them back up into a better performer. The training can be somewhat loosely organized and impulsive, especially when compared with something like a marathon, which is highly controlled. Military evolutions are more about survival, knocking you out of your comfort zone and working as a team to push past boundaries. I think this what GoRuck is all about and this is the experience that Jason was trying to impart. Since my entire athletic experience is from organized sports with rules, boundaries, and set expectations, GoRuck conflicted with where I came from.
Here's a good video about the Sealfit Academy that gave me insight into elite military training and what Navy Seal candidates go through. After watching this, things started to click into place.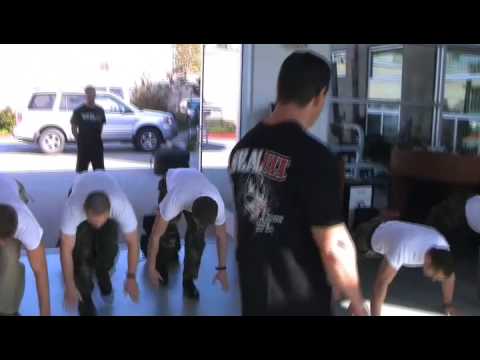 To take it a step or two further, imagine if you're on a squad in a combat situation and in the middle of a desert with limited resources (food and water). You have to trek 24 miles to reach a safe zone and you have injured squad mates. You MUST work together and find a way to get through it. Simply put, lives hang in the balance. In that situation you do whatever it takes to get the job done and it doesn't matter what you expected or what you've done in the past. The only rule is that everyone finishes together. Everything else goes out the window.
So the whole point of GoRuck was take you well past your limits and mindfuck you. Since quitting isn't an option, you have to push through some serious boundaries.
After viewing the Challenge in this new light, I realized it's a very rare and very special type of event. It's on the fringes of the type of physical challenges you can pay for and receive an utterly unique experience from. Anyone can play sports and do organized races under controlled conditions, but very few competitors have the type of experience where you're battling so much of the unknown and being pushed across the finish line. Because of that, I'm glad I did it and I'm proud of my performance and proud to have run with those men and women. I'll remember it in the best possible light.
Cell Leader Jason
Jason is a total extreme maniac. My first impression was that he's kind of a dorky, nice guy and there's NO WAY the event was going to be uber hardcore…that was a smokescreen. As soon as we took off running he turned into hell-on-wheels and pushed us relentlessly. I don't think we would have finished the mileage without his constant prodding.
What I thought was remarkable was Jason's running ability. He had no problem traversing the marathon distance with a loaded pack and his last mile looked as fresh and springy as his first mile. While we were beaten down and crawling at the end of the night, he was cracking jokes and taking pictures and having a grand time. Apparently, he'll lead two GoRucks in one 24 hour period. Absurd. If I had to go into combat, this is the guy I'd want on my team.
Last Thoughts
Because of the extreme nature of GoRuck and the fact that it's driven by a graduate student on a shoe string, it's possible that GoRuck won't be around forever. That's pure speculation on my part, but something to keep an eye on. If you're interested, find one soon and sign-up.
I want to give a big shoutout to my Crossfit friends who I shared this remarkable experience with. Without these guys and gals it would have been a little bit darker and a lot harder to finish: Josh, Mike, Andrew, John, Jack, Teri, Bridget, and Lauren. There was also the gentleman who carried me and my heavyass pack the last 500 meters to the finish in beastly fashion…I believe his name was Pete. You sir, are a champion. I also want to say that the group as a whole showed extraordinary character…there wasn't a single complainer or quitter in the bunch. All 22 individuals were grinders, kept encouraging each other, shared food and water, and worked as a team to meet the challenge. I thought that was remarkable and I feel lucky to have been part of it.