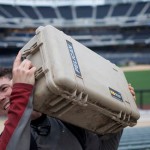 Over the weekend I had the pleasure of interviewing Todd Garrett, a recent veteran of the San Diego GoRuck Challenge, class 033. Todd is 46 years old and lives in Los Angeles. He's normally a marathon runner and can do a 3:40-3:50 marathon while training 30 – 35 miles per week. I connected with Todd after he found my initial GoRuck review and inquired about training and the overall difficulty level of the Challenge.
I often get emails from guys who are wondering the same thing, so I'm hoping this interview will shed some light on the endeavor and encourage more guys and gals to sack up and drink the GoRuck kool-aid. I remember I was in the same position…I was curious and wanted the hardcore experience, but I wasn't sure if I'd be able to handle the physical punishment of carrying weight a marathon distance, so I dilly dallied for a while before finally being talked into signing up.
In the interview, we talk about training and Todd describes what the San Diego Challenge was like. Note the use of what he calls "coupons," where the team had to carry extra weight in the form of a pelican case full of beers and a kettlebell the entire 13 hours. That's good livin'.
My apologies for the creepy shadowed out headshot in the corner, first time I've done a Skype recording.

Looking for some training ideas? On Saturday I did a team CrossFit workout: that took us about 41′ to complete. This is nearly identical to Regionals team WOD #4:
1000m run
250 pullups
250 KB swings (53#)
250 double unders
250 overhead squats
1000m run
Then, me and two of my 007 pals did a weighted trail run for 1:45 in the Little Big Econ State Forest. Temps were in the mid-90's and that totally sucked. And by sucked I mean totally awesome.