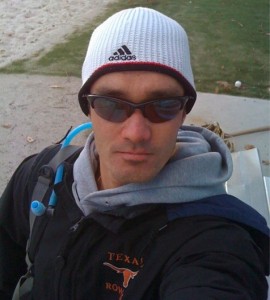 With the Florida GoRuck Challenge right around the corner (December 29), I decided to do a training run in full gear to test all the stuff I've put together. The run was a 90 minutes with thirty pounds loaded into my pack. Temps were in the low 40's and windy, which is almost exactly what the projected conditions will be on Wednesday for the real deal. I see the GoRuck as a big gear challenge, nearly as much as it is a physical challenge; having the right gear can make a big difference over 7 hours of severe cold, wind, and wet.
Previously, me and two of Crossfit pals did a 8.5 mile run that took 2'20" to complete. We all rucked 30 lbs. Temps were warm and we did it after a really tough WOD that had all of us exhausted before we started the run…so I was feeling good about 90′.
Gear I tested out:
Jansport day hike backpack…the actual Challenge will use a GoRuck pack of course.
20 lbs of plate weight loaded into the pack
Camelbak bladder full of water
Various Shot Bloks, Accel gels, and Oh Yeah! bars for food.
Extra clothes
Goretex rowing jacket from Boathouse Sports
Regular hoodie sweat shirt
compression tights from 511 Tactical
long sleeve compression top from 511 Tactical
Board shorts
Light running gloves from Manzanella
Adidas beanie cap
Worn Asics running shoes
Awesome coolmax trail running socks.
I also took my iPhone in case something happened and I needed to call for a ride. Will probably not take it on the actual Challenge.
I started off running from my house and ran all around the Thornton Park neighborhoods near my house, through Colonial Town, and out to Colonial. I cruised through several parks and did exercises like pushups and situps whenever I needed a break. In one park, I found a bunch of large rocks and chunks of wood and literally carried all the items from point A to point B over the course of about 20′. Great fun. I figured this would approximate a physical challenge on the GoRuck. My running pace was super slow, maybe 11′ miles, with some kind of break in the run every mile or so. The pack screws up my running stride amd the best I can do there is a brisk trot, which I think will be roughly what we'll do on Wednesday. I can't imagine we'll be running fast with 20 people of mixed skill all clumped together.
As far as gear goes, I started off warm and was chilled by the end of the run after my clothes got soaked with sweat. My legs got cold, so that makes me think I need another layer or at least long pants to go over my tights. Tights don't do anything to cut the wind and I could really feel it. The drawback here is that after we jump in the ocean, any pants I wear will be completely waterlogged and weigh a ton. So I'm not sure what the best combo is for lower body.
My crew jacket was perfect for this kind of run, it kept my chest toasty the whole time. The compression top got wet and stayed wet despite it's advertised wicking properties, which I think is inevitable because my hoodie and jacket trapped the moisture inside. I don't think there's anything I can do about that. The other thing that sucked about the compression top was that the backpack caused it to roll up my back from the running motion, so I was constantly pulling it back down to cover my back. By the end I just said screw it and left my lower back exposed. I'll have to find a way to secure it to my pants or something.
My head was okay warm but face got cold so I'm thinking about getting something that covers a larger portion of my head. By the time I got home my jaw was so cold I couldn't talk straight.
My feet stayed totally warm and the coolmax socks were fantastic. My Asics were comfortable but my feet hurt just a bit by the end, and I noticed some sand and crap got inside them…they're not ideal for off road running. I'm debating whether to roll with these or my new Saucony Kinvara's, which are awesome running shoes. The reason I wouldn't use the Kinvaras is because they look awesome and I don't want them to get trashed yet!
The Manzanella gloves were way too light, my hands were freezing by the end, so I'll switch to a midweight glove.
I thought the running was mildly difficult and I got used to the weight by the end. Breathing was controlled and medium effort. Between this run and the 8.5 miler we did a couple of weeks ago, I feel 100% confident I can tackle the distance of the GoRuck. My chief concerns are how I'm going to react after we jump in the friggin' ocean and get 100% soaked and how much it's going to suck for the remainder of the run. Like, are we going to have to cruise around St. Augustine for several hours soaking wet with beach sand chaffing our junk? That would totally blow. But, it's part of the challenge and I'm really looking forward to throwing myself at this.