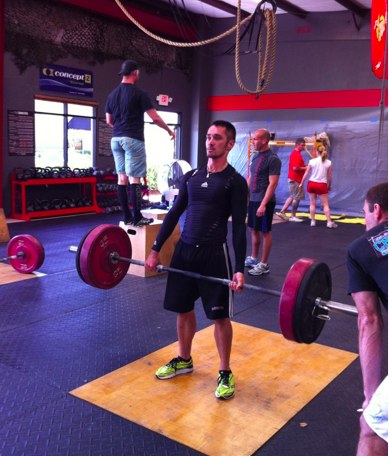 I completed WOD 11.2 on Saturday along with nine other athletes at Crossfit Firebase. (Disclaimer: This is a post about training, not the movement standards.) I had a number of thoughts while doing it and watching:
1. I was sucking wind just 3 minutes into the WOD and had to basically slow down and struggle through the rest of the workout. My aerobic capacity is nowhere near where I want it to be or where I know it can be. And 15′ is a long AMRAP.
2. I come from a rowing background, which is a power-endurance sport that most competitive rowers periodize. As a rowing coach, I use winter as a strengthening and "base building" period. Base building I define as a high volume of low intensity miles and an expansion of your aerobic base. A typical day's workout might be rowing 60′ on the ergometer with heartrate in the 150s.
3. In the fall, I was rowing regularly for my club and supplementing my workouts with a 60′ bike ride two days per week. I was also hitting the Crossfit gym 3 days per week. By mid-December, I was in phenomenal shape both aerobically and strength-wise, the best of my life.
4. During the period I described above, I was able to crush Crossfit workouts from an aerobic standpoint…if it was mostly or all body weight movements, ie "metcons," I did well. I could be as aggressive as I wanted without redlining my heartrate. I remember telling a couple of friends in November, everything is "easy right now."
5. I consider most Crossfit WODs to be power-endurance workouts, so the impact it has on you aerobically is very similar to rowing.
In January, I started in on a different training plan, doing only Crossfit (3 times per week) and weightlifting with a personal trainer (2-3 times per week). No rowing, no biking, no running. I did this on purpose for two reasons: 1) I'm actively working on increasing my 1RM for several movements and 2) I wanted to gain muscle mass. I'm happy with the results so far but the drawback is my aerobic ability has fallen off.
Back to the Crossfit Open. If I had been training like I do for rowing, I think I could have added another .5 to 1.5 rounds to Open WOD 11.1 and 11.2. The increased aerobic ability would have allowed me to take less breaks, attack each round more aggressively, and not lose reps due to exhaustion. I did get no rep'ed a couple of times because I was seeing stars and f'ed up the movement.
Which leads me to this set of thoughts. Crossfit is now a "real" sport, with a competitive season and a world championship. The competitive season is the period from the first Open WOD through Regionals and through the Crossfit Games, if you're at that level–March through end of July for the top guys and gals. For the vast majority of us, if you buy into the Open WODs, your competitive season will be the 7-8 weeks starting in March.
(That March through July competitive season is fairly similar to rowing. In the US, we have National Selection Regattas in April and May, tuneup regattas throughout the summer, and Worlds from August 28 – Sept 3.)
What all of this means is we should be training specifically for the Crossfit Open and be at our best during the period encompassing the Open through Regionals. Translation: periodization. If I was strategizing this properly, I would do extra aerobic, base-building work (ie "long, slow") at the end of the fall and through the winter, so that I could hit Open season hard and maximize my chances of qualifying for Regionals. Graham Holmberg dropped a big hint that this is what he's doing leading up to the Games.
Does your average, non-competitive box athlete need all of that? No. But if you're committed to the Open and taking a shot at Regionals, or even targeting a big throwdown somewhere on the calendar, you need to add in the extra aerobic work to build your engine up and you need to strategize your training intelligently. I've seen some of the top Crossfit athletes hint at this in articles and videos, from Tommy Hackenbruck to Jason Khalipa to Spealler. I suspect that other elite Crossfit athletes are already periodizing and adding in other types of training, especially if any of them came from other sports.
Periodizing and long/slow training might not adhere perfectly to the Crossfit philosophy, but there's no question that it can help you conquer your WODs and go to another level during the Open.
My Plan
So my plan is to add in 3-4 base building workouts per week on top of what I'm already doing, with a mix of biking, rowing, and running. These will be mostly low intensity, higher volume work, with my heartrate in the 150s and 160s so I can develop those lower cardiovascular ranges. Training time will be 60-90 minutes at mostly constant pressure, but I'll do intervals as well. See below for a couple of example workouts. Capillarization is now a major focus. I'm probably screwed for the remaining Open WODs since I'm in the middle of it, but if I target an event in May or June I should see a noticeable improvement in my output.
So, if you're a competitive crossfitter doing, say, 5 WODs per week, I recommend supplementing with 3 aerobic workouts, where two of these are long and slow and the third is a set of intervals. These can really be anything, but running and rowing are appropriate as those are movements we do in WODs.
I think you'll see more and more competitive Crossfit athletes start to train this way, by adding in longer runs and rows to supplement the daily WODs.
Any thoughts and feedback is most welcome.
UPDATE: Interestingly, the Games staff discussed periodization and specifically Graham Holmberg's strategy in this video for Update on the Open: Week 2.
Sample Workouts
All of the volumes and numbers can be fiddled with and customized for each athlete, but here are a couple of simple examples.
Row: 60-90′ stroke rate 18-22 (I do this one on the water)
Bike: 60-120′ (I prefer mountain biking for the variety)
Run 30-45′
Hill or stair intervals, 8-12 intervals, go hard uphill, easy jog on the way down.