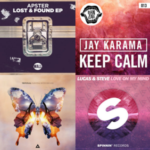 Spotlighted tracks:
Fist Pumper #1: Keep Calm, Jay Karama. This is a serious banger by the Aussie newcomer. Love it.
Fist Pumper #2: WORK IT, Quintino. Ass kicking electro house. This track is so ridic.
Cooldown Track: So Long (feat. Madi), Slushii & Madi. Honorable mention goes to Candyman by Zedd & Aloe Blacc.
Phat Remix: Don't Let Me Down – Illenium Remix, Chainsmokers, Daya, Illenium. One of those situations where the remix might be better than the original. Be sure to check out the Illenium guest mix on Nice Hair radio 027, which is totally dope.