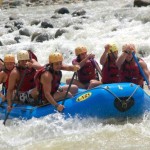 I vacationed in Costa Rica and it totally kicked ass. Don't read this post unless you want your head to explode from jealousy.
Here's the logistical bullcrap. I found tickets that flew through Miami on American Airlines for just under $400. A bunch of my pals flew Jetblue, which does a direct out of MCO, for like $500+ each. This is not a bad way to go. It's about a 3 hour flight from Miami to San Jose. Once in San Jose, we took a shuttle from the airport to Jaco (1 hour 15 minutes), which is a coolass beach town on the Pacific side. Jaco is fairly built up and tourist friendly; everyone speaks English and there's plenty of restaurants, bars, and clubs. It's very easy to navigate for gringos. In fact, there was a disconcerting number of gringos and especially folks from Texas and Florida. My comment was, "You can't swing a dead cat without hitting a gringo in this place." So, if you're looking for a remote location where you're the only non-Tico, Jaco is NOT the ideal choice.
One notable here, we ran into Bobby Sura, an ex-FSU and NBA basketball player while getting tacos at Los Amigos.
Housing: We stayed at the Diamonte Del Sol, in a badass 8th floor condo on the beach. When I say on the beach, I mean the view from the balcony was this: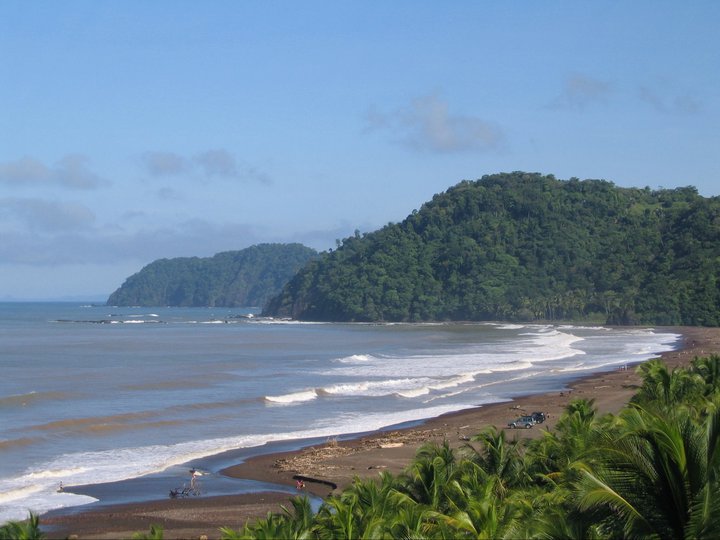 Absolutely spectacular.
We worked through Costa Rica Dream Makers to make all the arrangements…this included booking the condo and all the day excursions. They provided phenomenal service. Like, everything we needed from a bathroom plunger to an iPod stereo to getting a restaurant recommendation to scheduling an ATV trip, they hooked us up with just a phone call. Need to split up the rental costs between 8 people and pay individually? No problem, they can take care of it right in the office, which was down the street. I highly recommend them.
Costs: Exact same as Orlando prices, unfortunately, as I heard it was cheap to vacation in Costa. Imperial was $3/bottle, fish tacos were $4-$7 range, taxis were $10.
Okay, now on to the good stuff:
Tuesday: We picked up two bottles of Patron Silver in the airport and a case of Imperial cervasa at the MegaSuper, which was the grocery store down the street. That night included much merriment and hanging out on the balcony during a biblical-quality electrical storm. Mindblowing and otherworldly.
Wednesday: In the morning I went on a beach hike. This is not a "walk on the beach" like in Florida…if you walk to the north end of the beach in Jaco, it ends in a rock field and cliffs (see picture above). Continue north around the point and all of a sudden you're bouldering through wet, treacherous rock. It was fairly technical and awesome, with waves crashing on the rocks a few dozen meters away. The end point is a narrow channel that drops into the ocean (passable but risky) and directly on the other side is a cool waterfall. This is a free and easy way to entertain yourself in Jaco.
That afternoon was surf lessons on the south end of Jaco Beach. Just a little background here…I've lived in Florida for half my life but never seriously surfed. Costa is a major surfing destination and there were legit waves, like over my head, so it's not well suited for n00bs. I signed up for lessons and I'm glad I did. Cost was $50. The south end has mellower waves and the instructors do all the basic teaching there. We had Surfer Mike and Pee Wee from the Tortuga Surf Camp. Surfer Mike was friggin' awesome, a phenomenal instructor and passionate surfer who talked about feeling the music of the waves. He got me up on the learner board almost immediately in the first hour, and in the second hour he took us past the farthest waves. It was intimidating. Paddling past the waves was a major workout, Mike had to tell us exactly when to paddle, how hard, and what do to (push or roll) when we got drilled. I have no problem admitting, I was alarmed by the pounding.
With Surfer Mike's help, I caught a legit wave and rode it all the way back to shore on my first attempt. HELL YES, I was stoked. I tried to paddle back to make another attempt but couldn't make it…I was too smoked. That gives you an idea how much the waves blasted us. We were getting bounced all over the place.
If you're in the area looking for surf instruction or a surf camp, I highly recommend Tortuga Surf Camp. If I return to Jaco he'll be the one giving me instruction.
Thursday: White water rafting on the Rio Savegre. Transport time from Jaco is about 2.5 hours (one-way) and the rafting trip itself took about 4 hours. The river was class II rapids with plenty of flat pools, so if you're looking for hardcore rafting this isn't it. Note: the rapids are easy enough that the instructors flipped the raft on the purpose, which I thought was a blast. I got knocked out three times!! This is most appropriate for a fun trip with a mixed experienced group. You get breakfast, snacks, and lunch on this one. The guides are awesome about informing you about the local flora and fauna and keeping things fun.
Highlight was making a pitstop on the river and swimming in a waterfall. Amazing. See pics in my gallery below.
Friday: We took a party boat trip to Tortuga Island. While this was a lot of fun and the scenery was ridiculous, it was a little too controlled for my tastes. There was no exploring off the beaten path once you got to Tortuga. Highlight for me was playing beach volleyball with the crew of the ship. This one I say take it or leave it.
Saturday: We hit the pool and chilled. I squeezed in the following WOD in the afternoon:
"Cafe con leche"

5 rounds for time

Run 8 flights of stairs, hard up, jog down

10 burpees

20 air squats

Total time: somewhere in the 17′ range

Variation: Add in 10 HSPU and drop the rounds to 4.
In the evening we hit the Backyard Bar at Playa Hermosa for the surf competition, which happens every Saturday from 4:30 to 6pm. If you're in the area, you MUST check this out, because it's a blast. Hermosa is pristine and gorgeous, the surfing is awesome, and Freddy "SalsiBoy" Camacho is hilariously over-the-top as he MC's the contest in both Spanish and English. It's impossible to not have a good time at this thing. Sit on the beach, order a hamburgeasa, chug Imperials, and soak in the pura vida spirit.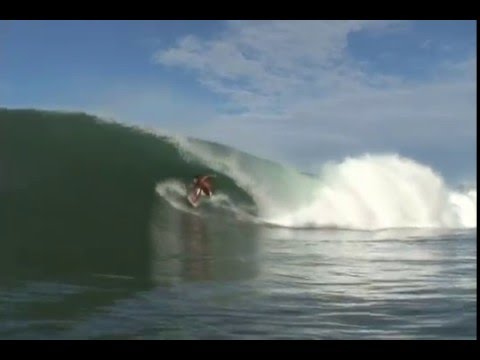 Some of Camacho's lines:
"We are all about smiling and happiness at Backyard Bar, because that is the pura vida lifestyle!!"

"I LOVE you beautiful people, you are all the V-I-P!!"

"Very nice carving…FRONT SIDE COMBINATION…Jason Torres, the 'golden boy', he wants the money!!"
I can't do it justice here, but he was completely into his schtick and we cracked many a smile.
The top 3 surfers in the money: Luis Vindas (current Costa Rican National Surf Champion), Jason Torres, and Anthony Segura. One notable included a female American competitor who did a headstand while riding a wave, much to the crowd's delight.
"Hahaha, the girl she is getting nasty style!!"
Sunday: We did a 4:30 pm sunset dinner at Villa Caletas, which is about a 10′ cab ride from Jaco. Again, if you're in the area, I recommend checking this place out, especially as the sun is setting. Sit at one of the many outdoor tables and enjoy the mountaintop view of the surrounding countryside and the ocean. It's breathtaking. I could see the curvature of the Earth in the distance. Prices are in the $30-$40 range for entrees.
After dinner we hit the Beatle Bar for drinks. Beatle Bar is famous for it's many women of the night who patrol the premises, waiting to attach themselves to moneyed gringos. If you're into dive bars and enjoy serious people watching, or looking for a weekend novia, this place is definitely for you. The women run the looks gamut from merely okay to seriously hot. Also, the irony of dining at Villa Caletas and then going straight to Beatle Bar was not lost on me. It was a fine evening.
Conclusions: Epic trip, great vacation, I can't recommend Costa enough. I was struck by the good nature and positivity of the Costa Rican peeps and I love the vibe of pura vida. I found it remarkable how hard the Costa Ricans worked on all of our excursions and how friendly, cheerful, and humorous they were without an ounce of jadedness towards us tourists. Consider the day of a typical crewman of the Tortuga Cruise: be at the marina at 6am to prep and load the ship, greet passengers as they loaded up, serve breakfast, crew the ship, prep the food, serve drinks and food, unload supplies at island, make lunch, prep dining area, serve lunch, clean everything, play volleyball with gringos, break down dining area, reload ship, return ship and entertain passengers on way back, unload ship, clean ship, lock everything down. We rolled out of there around 5pm and those guys were probably working until at least 6pm, maybe later, and it was 90 degrees out with no AC. Brutal. Days like that would break me and these guys were chummy and generous to a fault. It makes me rethink my own lifestyle back in the US.