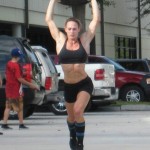 Quick post before I leave for GoRuck Tampa…btw, I can't believe 1) I'm doing GoRuck Challenge again and 2) that's it's here already. That really snuck up on me.
In other news, I did an email interview with Talayna Fortunato recently, an amazing CrossFit competitor who trains out of Real Fitness Naples. Talayna is a great athlete and she delivers in this interview…any CrossFitter can get something out of it. The article was published on games.crossfit.com.
Here it is: Meet the Woman Behind the 2:26 Fran.
If you like this article, hit me with comment.