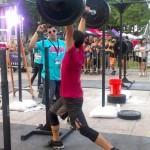 Wodapalooza is on it's way to becoming the Ultra Music Fest of CrossFit competitions, a multi-day carnival of fitness and CrossFitting. At some point in the future, if Guido and company choose to go in this direction, I can see them turning it into the biggest CrossFit-ness event in the world, perhaps second only to the CrossFit Games. By no coincidence, Wodapalooza takes place on the same hallowed grounds as Ultra at Bayfront Park. With 3 days of events, over 500 competitors, and thousands of spectators, they're already one of the biggest CF events.
I had the good fortune to be able to compete, my second year in a row. It was one of my most challenging and rewarding athletic experiences. Full review below.
Competition
This year featured a whopping 549 competitors across 10 divisions (male and female Scaled, Rx, Elite, Masters, Team), up in a big way from the 116 individuals and 10 teams from last year. Just to throw a few stats out to illustrate the growth, and by extension how popular CrossFit has gotten, there were 74 Rx men and 36 Rx women in 2013, compared to 37 and 11 from last year. On the team side, there were 65 total teams compared to 10 last year (!!). With that many competitors, Wodapalooza II may have been the largest CrossFit competition in the world–I'm defining competition where all the athletes are in one place, thus eliminating the CrossFit Open. Oh yeah, by my count, the CrossFit Games had 508 competitors in 2012.