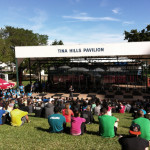 Wodapalooza (WZA) is one of those super intense, sensory overload events that takes me days to process and write about. This year's WZA was no different…besides Kokoro 25, it was the coolest, most far out, most exhaustive athletic experience I've gone through, a step beyond the already exceptional experiences of Wodapalooza I and II. It was by far the most challenging and rewarding CrossFit competition I've done.
I'm gonna write two posts, this one with a review of WZA in general and then a post on my personal performance later in the week.
Click WZA1 and WZA2 if you're interested in my reviews of Wodapalooza from previous years.